Ioana Tamas look at what we might learn from the regeneration of Liverpool
---
Thirty years ago, few would have predicted its evolution or even believed it would be possible. Since then, Liverpool has emerged phoenix-like, becoming the byword for culture-led regeneration in the UK.
Currently, in an attempt to enhance their economic prospects, cities around the globe have precipitated an international beauty contest. Faced with external competition and dwindling resources, Liverpool also has to contend with its growing spatial, social and economic disparities.
In light of these challenges, what role does the instrumentalisation of creativity have?
---
Crumbling infrastructures and delicate economies
Within the swathe of culture-led regeneration initiatives, various cities with an industrial legacy have been singled out as 'models', but Liverpool was both a pioneer and a latecomer in this race.
The outset of its cultural renaissance was the transformation of Albert Dock and the opening of Tate Liverpool, in 1988. At that time, the city's waterfront development was an era of pragmatic problem-solving, which echoed the need for physical and environmental improvement and it was led by a public agency.
However, it was the 2008 European Capital of Culture award that brought widespread acclaim and celebrated the city's cultural renaissance – and with it the emergence of what has subsequently been dubbed the 'Liverpool model'.
The second phase of regeneration moved away from the strict preservation of buildings to more radical and uncompromising architecture. The city centre became a laboratory of urban experimentation, as the traditional managerial form of governance was replaced by a more entrepreneurial approach. At this time, the emphasis was on linking urban design with wider cultural initiatives, in the hope of reversing the flight from the city and attracting new investment. A major success was the establishment of Liverpool Vision in 1999 – the UK's first Urban Regeneration Company, which led a series of parallel regeneration projects, including Liverpool ONE and the new Museum of Liverpool.
The city council also set up the Liverpool Culture Company (LCC) in 2000, with the purpose of planning and delivering the European Capital of Culture (ECoC) programme. Although an unlikely contender, Liverpool won the 2008 award by proposing to become a city of culture, rather than being one. As preparation, the LCC also produced a series of themed annual programs – a combination of local and international art commissions, which furthered the city's physical development and reshaped Liverpool as a destination for cultural tourism.
Eventually, this enabled Liverpool to promote itself as an attractive environment for 'cultural businesses' and 'creative people'. By applying New Labour's approach of joining the cultural sector to the new high-tech businesses, the city established support for the creative industryas a secondary outcome of the ECoC programme. Liberated from negative regional and national stereotypes, with an increase of first-time visitors, post-2008 Liverpool saw an influx of creative businesses into an area of the city designated as the Baltic Triangle.
Thus, creativity became the central plank for Liverpool's economic and social development. Liverpool meshed cultural consumption (tourism, events, heritage – creativity as output) with non-cultural production (the new creative industries, for which creativity is a process). This paved the way for neoliberal policies focused on the competitive creative city as we currently understand it – a process investigated in the monograph Persistent Creativity (2019), by Peter Campbell.
With the publishing of its 2012 Strategic Investment Framework, Liverpool stepped away from culture as an explicit regeneration activity, to increasing its market share of high skilled and highly paid jobs. In urban terms, this approach has been reflected in the idea of distinctive neighbourhoods, where the future development of the city proposed to build on the qualities of different parts of the city centre. Unlike the previous era of regeneration, where the city was primarily aspiring to improve its physical and cultural attributes (besides achieving competitiveness), the city became less the result of design and more an expression of global economic and social trends, over which cities have limited control.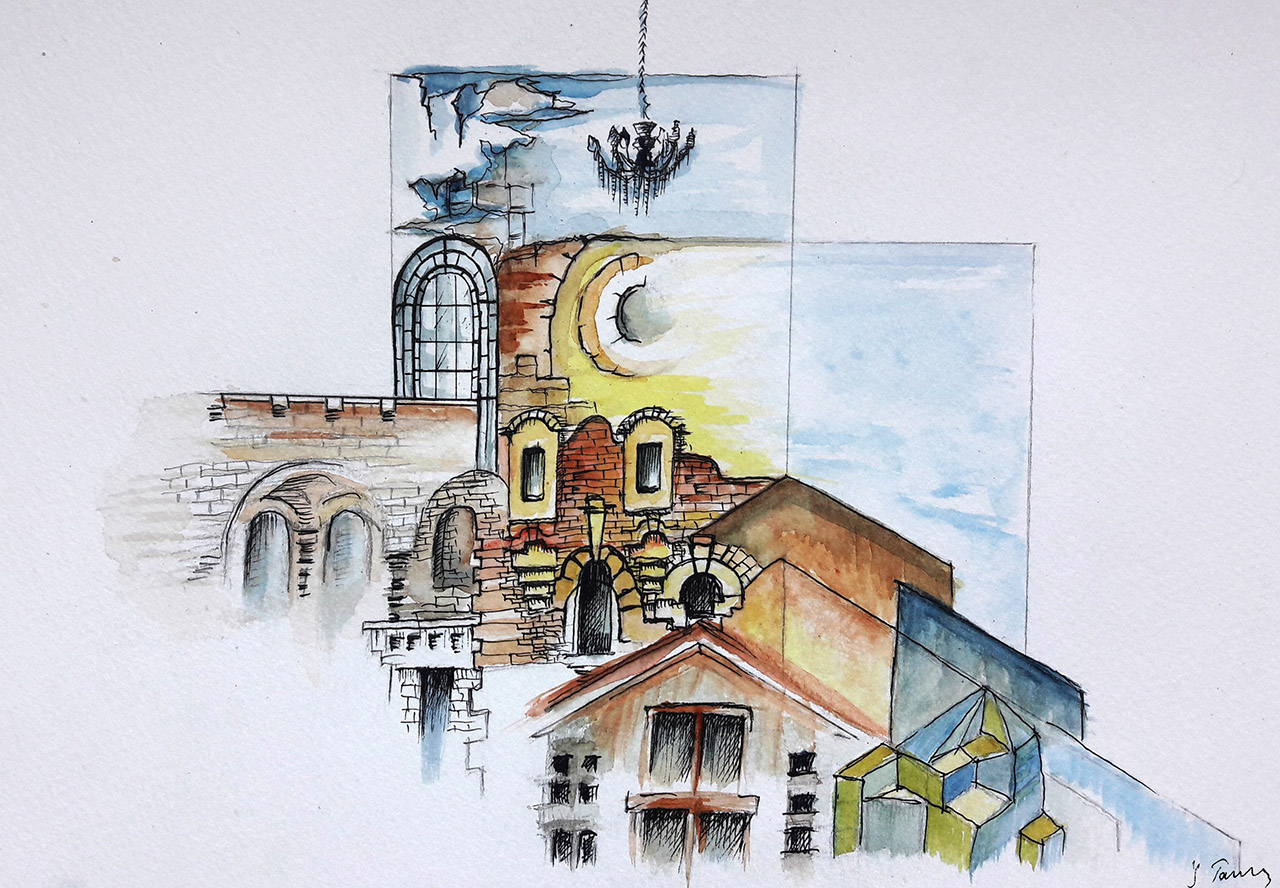 ---
Overcoming the mundane pursuit of the radical
Presently, the continuing redevelopment of industrial space around Liverpool's city centre emphasises, amongst other things, the role of a vibrant, innovative and creative district with the aim of becoming the best place in the UK for a digital or creative business.
And so, it seems that the promised future now bears many similarities to the past, not least a similar set of challenging circumstances: after the many successes of its ECoC year, and multiple wider regeneration programmes, Liverpool reveals itself as the home to some of the UK's most deprived neighbourhoods. Many of these areas have been consistently ranked as England's most deprived 1% over the course of the past decade of data gathering.
Can the creative sector (still) be reasonably expected to tackle some of these challenges and deliver a significant competitive edge for the city?
According to Nesta, the wider creative economy thrives in clusters, with a ripple effect on sub-sector specialisation and growth. Liverpool is classed as an incipient cluster, with high entry numbers, but low creative business survival rates. Regionally, the North is also characterised by high levels of business and employment churn, which makes stabilisation difficult. Only Manchester has shown spectacular growth, with potential spillover effects.
Why would that be? Creative business growth is dominated by extremes as it starts to grow; we only need heuristics to illustrate this. For example, the global publishing industry is dominated by a few wildly successful Dan Browns and Stephanie Meyers, followed by a tragic list of aspiring writers the world will never hear of. In statistical parlance, this phenomenon is known as a power law distribution and it eludes top-down planning – therefore, any system that proposes to support this type of development needs to thrive on the unknown, as a protective measure against ruinous events. This implies actively encouraging experiments, expecting many small losses and allowing self-organisation to increase adaptability.
But let's persevere and imagine that Liverpool succeeds in developing a critical mass of creative employment and business activity. Transforming the sector into a sustainable source of employment will still have to address barriers to entry, since emerging opportunities in this area are often exclusive.
At this point, one could be reasonably expected to throw their hands up in resignation, but Liverpool may also have an existing solution to all these problems. Drawing on his research of Liverpool's social innovation, Matthew Thompson discusses the grounded city concept as an alternative vision to the urban entrepreneurialism pursued thus far. By shifting from public-private to public-common partnerships, residents can start to shape local economies into a place-based system, thus becoming activist entrepreneurs. This concept also addresses the extremes of the creativity spectrum – playing it safe through the strengthening of local foundational economies, whilst also engaging in more speculative activities.
One of the identified case studies in experimentation is in the Baltic Triangle, Liverpool's creative and digital quarter. The majority landowner, Baltic Creative, was set up in 2009 as a Community Interest Company. Profits generated from the rents on its asset lock are reinvested back into the development of tenants' business aspirations, property and the wider creative and digital sector. Ten years after its inception, the Baltic Creative serves over 180 companies across the estate, with last year's review estimating £13.57m GVA pa added to the regional economy. The Baltic Creative is also working with Liverpool's educational institutions to develop students' ideas for start-ups and create further business opportunities, thus enabling the retention and development of local talent.
With ambitions of scaling up, it remains to be seen whether this type of experiment in social economy can fend off gentrification – as highlighted in the discussion of the broader development concept. However, it also indicates how municipalities might apply their entrepreneurial spirit in a more holistic and rooted manner.
---
Is there a Liverpool model then? Peter Campbell's studies on the impact of major cultural programmes conclude that underlying notions such as creative city or creative class that drive regeneration plans are posited on self-enforced ideologies, rather than objectivity. As an early adopter, Liverpool has demonstrated that ascribing social and economic gains to the institutionalisation of creativity is a high risk, high return strategy. Its original form has gone some way towards arresting the city's decline, however this approach is more akin to a wondrous adventure, rather than a recipe. Ironically, the failure to recognise this seems to lead to increasingly conventional models of deploying creativity, which also overlook entrenched socio-economic problems.
Yet, as indicated by Matthew Thompson's research, it is also Liverpool's grassroots social innovations that may level the playing field and unlock high potential for its residents, through a place-based economy and policies that allow for radical experimenting, alongside more homogenising strategies of stability.
Analysing Liverpool's case study through an architectural lens, another question that comes to mind is on the intrinsic value of creativity and the role of culture in society. In our chase after the black swan of high consequences and carefully crafted illusions of measured predictability, perhaps we have lost the very essence of culture – the humanist ethos embedded within its consciousness.
---
Ioana Tamas is a research officer at Citizens Advice. She has previously worked on service and policy development at the City of London Corporation. During her architecture degree, she pursued self-directed research on post-industrial urbanism
---
Featured image: Liverpool's emblematic skyline – from industrial to the new order © Ioana Tamas