Author: Leyla Moy
In the early 2010s, Westgate Mall was a shell on the near-west side of Madison, Wisconsin. Flanked by a Hy-Vee which continues to flourish, unencumbered by its cloud of failure, the mall as I was introduced to it was already over half empty, with its endless rows of ghostly empty shop fronts punctuated by an equally unnerving open costume shop. As of the later 2010s, it became an object of fascination for urban exploration (urbex) YouTube channels. A simpler exploratory feat than scaling walls to witness actual urban decay, Madison's 'dead mall' offered a glimpse into shorter term urban forgottenness. Unprofitable and outdated, it was a space so forgotten that no one had remembered to shut its doors.
Sometimes, in moments of sentimental weakness, I virtually visit my first mall love. Many of the urbex YouTubers drive in from outside the city, so I get to fleetingly view my hometown through the eyes of someone who has travelled cross-country to window-shop at empty stores. In the central area, where the branches of the mall converge in a tiered plaza, an elementary wayfinding map identifies the dwindling number of stores, with yawning gaps where the shuttered ones have been removed. Grid pattern climbs up the columns, combining with lush fake plants to create an accidentally hip vaporwave effect. I see my friends strolling down its empty halls with the same familiarity we navigated downtown, pausing under the nonsensical striped awning over the mall office door. Our mall was always air conditioned, usually open, and blissfully empty, short of elderly mallwalkers, with all the structure of a once-buzzing space stripped of commercial purpose – and we loved it like that.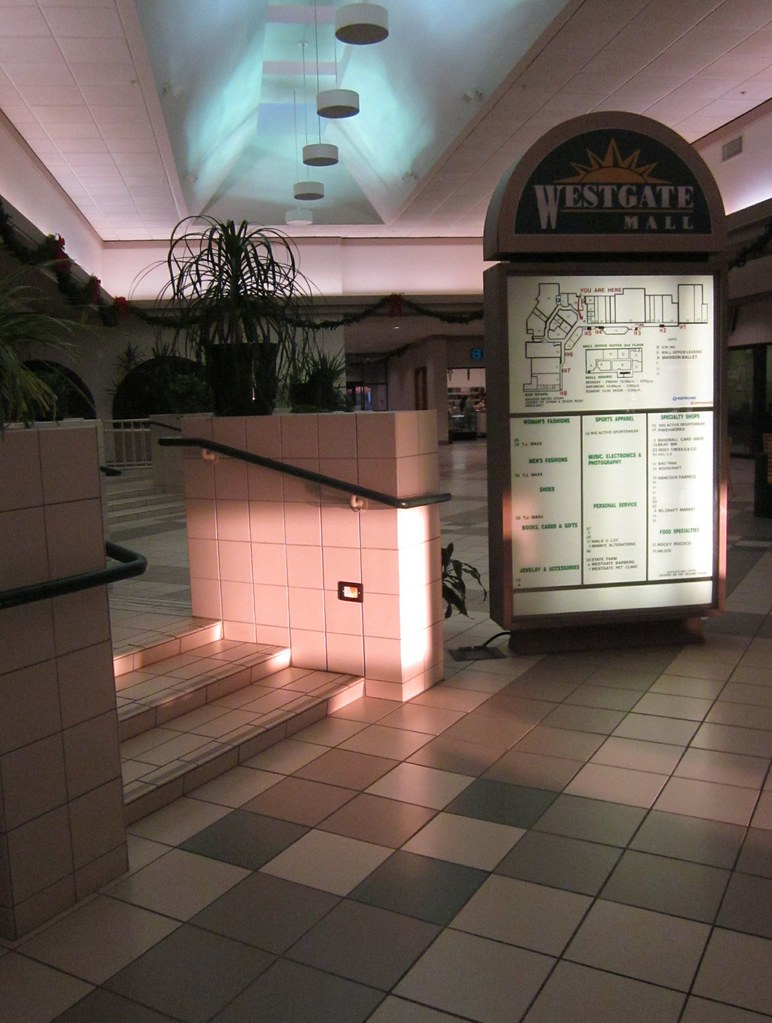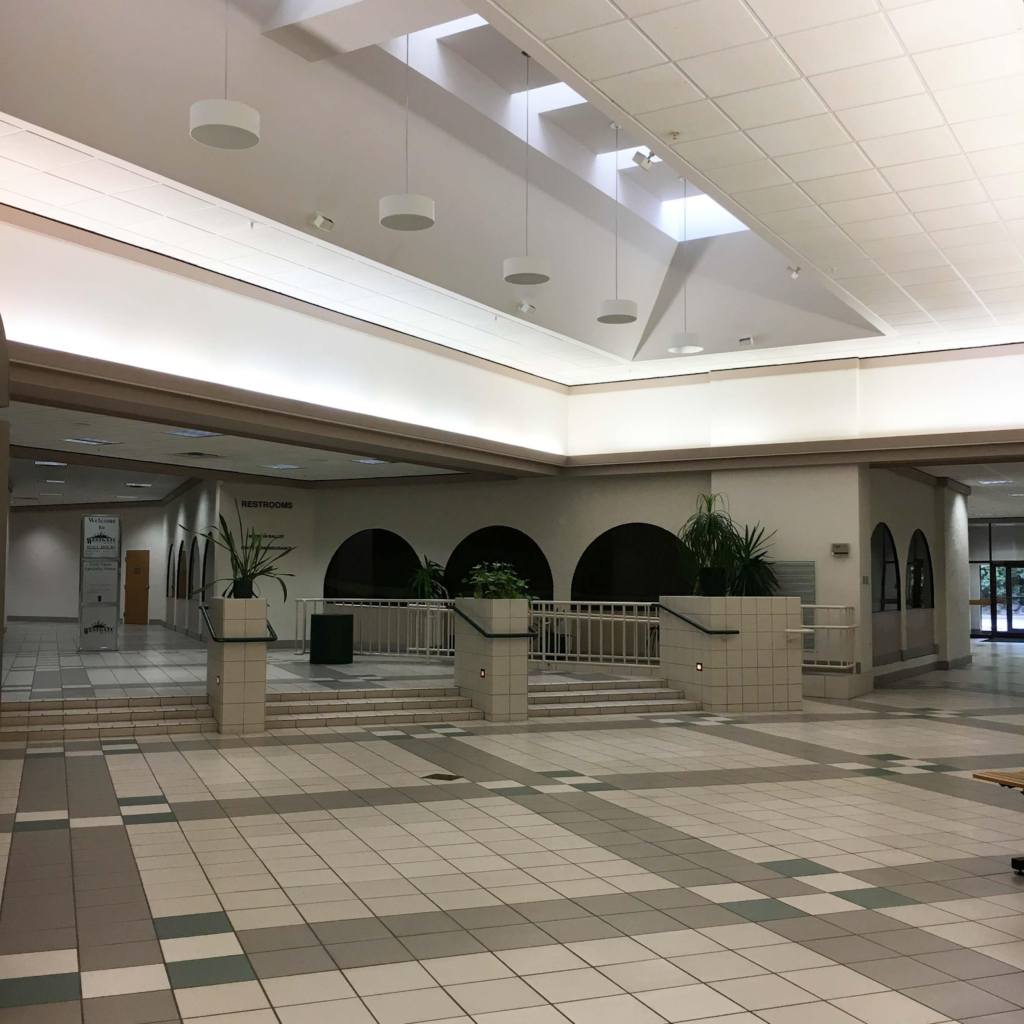 Alexandra Lange, author of 'Meet Me by the Fountain,' which chronicles the American cultural history of the mall, wrote that her pre-emptive embarrassment about the book's premise was soothed by the enthusiasm of each person she mentioned it to – "Oh," they'd exclaim. "Let me tell you about my mall." Despite being effectively a built vessel for our rituals of consumption, the mall is imbued with meaning: amidst the perpetual sales, it's the site of first kisses, blossoming friendships, food court debriefs, a flirtation with surveillance, and a microcosm of the ways teenagers are permitted – and forbidden – to exist in public space.
This sentimental resonance is owed in part to the dearth of public spaces available to teenagers, who as a result became nearly synonymous with malls in North America. Yet, despite its regulatory single use, the mall served a multitude of social functions – it was a place to work retail, unwind after school, meet at the food court, exercise in the winter and simply a place to be, even after the stores disappeared one by one. Whether drawn in by the promise of climate control or by the oft-cited lack of third spaces in our sprawling, car-centric cities, Americans made the mall our public plaza. Designers today working in pursuit of the ever-elusive quality of place might be comforted that even in the temple of commerce, people make places all by themselves.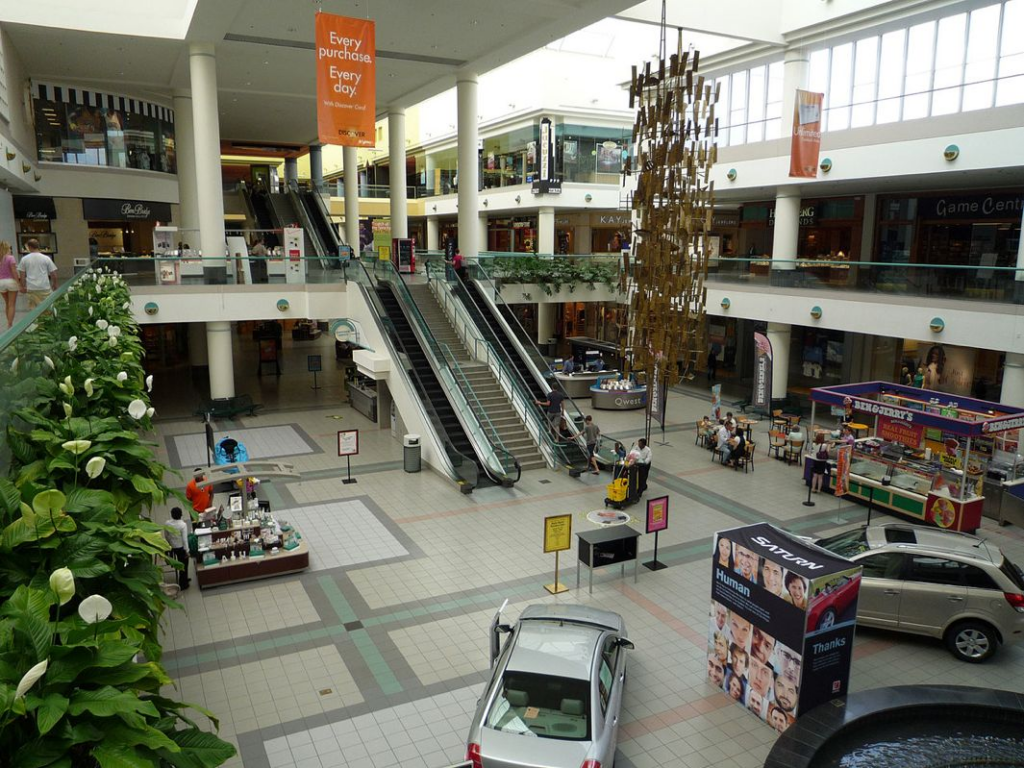 Or perhaps the mall's collective allure isn't an accident, but the legacy of an inspired creator. Victor Gruen, the Austrian-born American architect and father of malls, sought to evoke Greek agoras and European town plazas in his vision for the mall. The malls of Gruen's imagination would include housing, public services and parks, radically sociable places that matched his socialist ideals. Unsurprisingly, he came to loathe the sprawling inefficiency and unabashed consumerism of what malls became. Yet, in the ubiquitous mall fountain, the airy atrium and even the scaffolding bones of my dead mall, I see the heart of Gruen's idea – the creation of a place to be.
In another of 'my' malls – the ones I'd tell Alexandra Lange about – sentimentality is secondary to function. Montreal's RESO (Réseau Souterrain) is a 33-kilometre indoor pedestrian pathway under the city's central area which connects multiple malls to metro stations and the cultural cenre Place des Arts. It sounds a bit more glamorous than it is – my beloved routes were akin to mall tendrils rooted beneath the city's surface, a linear scattering of t-shirt shops and takeout food as though the malls of my youth had been unfurled and stretched. Here, rather than mimicking the wider city in contrived, fluorescent-lit tableaus, the mall underpins the city above it, a backdrop for hurried daily commutes and a respite for unintentional visitors who just wanted to escape the cold above. Yet, even with its traditional fountains and central plazas traded for a bare linear structure, the mall is persistently comforting, fascinating and alive in my memory.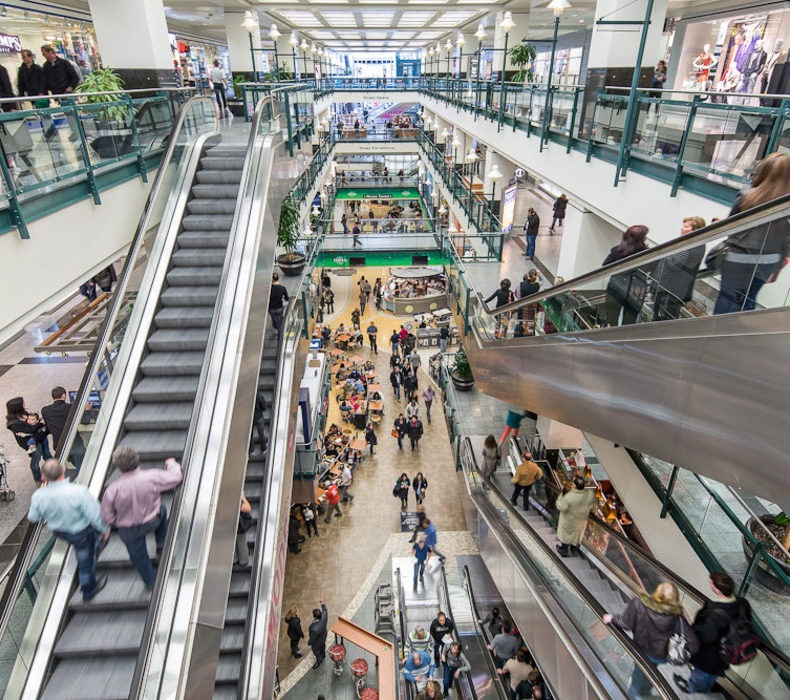 Faced with urbanist hot topics of how we might create public spaces for teenagers, like Make Spaces for Girls, I'm constantly reminded of the beating teenage hearts of the American mall. I see my friends and I leaning across wooden benches of our dead mall, laughing in surprise as the mallwalkers round the corner – and recognising that this empty building is a place where we both belong.