Create Streets recently tweeted a picture of Grey Street in Newcastle asking whether this was still Britain's best street. Inevitably it triggered a twitter debate and the 50 Shades of Planning Podcast is planning a special episode to resolve the issue once and for all!
The Academy knows a thing or two about great streets, even if we didn't recognise Grey Street until the fourth year of the Great Street Awards in 2010. Nevertheless the call for evidence is out and Academicians are encouraged to submit their nominations to Sam Stafford at the podcast.
Grey Street's claim to being our greatest street is based on a poll in 2002 conducted by CABE and Radio 4's Today Programme. According to the poll the top five streets in the UK were; Grey Street in Newcastle, High Pavement in Nottingham, Buchanan Street in Glasgow, New Street in Birmingham and Water Street Liverpool. New Street must be some sort of statistical aberration as a result of a disproportionate number of Brummies voting! Buchanan Street was an AoU winner in 2008 and Water Street and High Pavement have been nominated but never shortlisted by the Academy.
The Academy winners started in 2007 with Marylebone High Street and then in date order included; Buchanan Street Glasgow, Skipton High Street, Grey Street Newcastle, Exmouth Market London, Steep Hill Lincoln, Hope Street Liverpool, Lambs Conduit Street London, Bridge Street/North Street Taunton, Oliver Plunket Street Cork, Wood Street Walthamstow, Humber Street Hull, South William Street Dublin and St. Mark's Road Bristol. In addition to this there have been 28 streets shortlisted, many of which were worthy potential winners – for the full list see the end of the article.
I'm sure you are not interested, but just in case, the worst streets were…

–
In 2020 when we were unable to run the awards scheme due to COVID we asked Academicians to choose their favourite street from all those that had been shortlisted. The most popular were Argyle Street in Glasgow, Oliver Plunket Street and Park Lane in Poynton. The latter is an example of shared space and the vote was almost certainly a tribute to its pioneering designer the late Ben Hamilton-Baillie who had been an Academician.
Then there are the Great British High Street awards that ran between 2014 and 2019 and will hopefully restart next year. These were promoted by MHCLG, as was, in partnership with Visa and the 2019 winners was Treorchy High Street in the Rhondda Valley. It was the second year that Wales had claimed the top award after Crickhowell's success the previous year. These awards are specifically for shopping streets, Indeed looking back over previous winners and shortlisted streets there is very little overlap with the AoU shortlisted streets.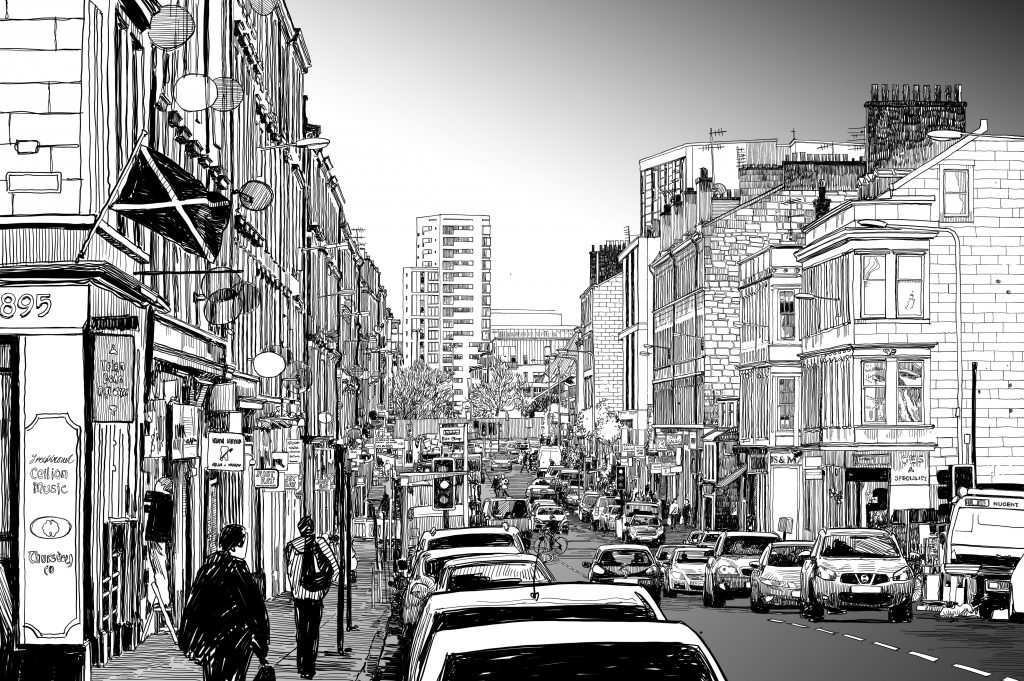 The original Radio 4/CABE Poll also looked at the country's worst streets, something that proved much more news worth, indeed the press release is titled 'Streets of Shame'. I'm sure you are not interested, but just in case, the worst streets were Streatham High Road in London, Cornmarket in Oxford, Drakes Circus in Plymouth, Maid Marian Way in Nottingham and Leatherhead High Street in Surrey. Streatham as the 'winner' was described as a 'junction that defies belief… with a single, ever shifting, traffic cone' and yellow signs from the Met 'advertising violent crime'. Oxford and Leatherhead made the list because of unpopular recently completed schemes: 'An example of cheap and thoughtless pedestrianisation taking the heart out of the whole town' in the case of Leatherhead. Other were examples of post war planning: 'windswept and outdated' in the case of Plymouth and the 'ugliest street in Europe' for Maid Marian Way.
It is worth saying that Maid Marian way was subject to a comprehensive improvement scheme not long after and has since been nominated at least once for the Academy Great Street awards. We probably don't want to go there in terms of nominating the country's worst streets but there might be an honourable mention for the most improved.
So Academicians, Young Urbanists and friends of the Academy, email Sam Stafford and make the case for the countries best street and watch this space for details of the podcast! 
David Rudlin / Sam Stafford
Sam Stafford created and presents the 50 Shades of Planning Podcast. His day job is Regional Strategic Land Director, Barratt Developments, although of course the views expressed here and on the podcast are entirely his own.
The full list of streets shortlisted for the AoU Great Streets Awards (winners in bold)
2007
Brick Lane, London
Marylebone High Street, London
Royal Mile, Edinburgh
2008
Regent Street, London
Buchannan Street, Glasgow
O'Connell Street, Dublin
2009
Portobello Road, London
Skipton, Yorkshire
Kensington High Street, London
2010
Cardiff Arcades
Grey Street, Newcastle
New Road, Brighton
2011
Union Street, Aberdeen
St Patricks Street, Cork
Exmouth Market. London
2012
Steep Hill, Lincoln
Cockburn Street, Edinburgh
Byres Road, Glasgow
2013
Hope Street, Liverpool
Exhibition Road, London
Chapel Street, Penzance
2014
Park Lane, Poynton
North Street, Bristol
Lamb's Conduit Street, London
2015
Elwick Road, Ashford
Bridge Street, Taunton
High Street, Berkhampstead
2016
Oliver Plunkett Street, Cork
Cairnes Street, Liverpool
Deptford High Street, London
2017
Wood Street, London
Newry Street, Bambridge
Lark Lane, Liverpool
2018
High Street, N Berwick
Humber Street, Hull
Smallbrook Queensway, Birmingham
2019
Kirgate, Leeds
South William Street, Dublin
Argyle Street, Glasgow
2020
Belgrave Road, Leicester
Rye Lane, London
St Marks, Road Bristol